Frontier Jewish Leadville is a permanent exhibition within the Temple Israel building. The original exhibition was formed with artifacts and informational wall panels in 2012 and 2013. It was expanded and retooled in 2014 and 2015 and partially expanded again in 2017. The original text on the wall panels, which accompanied the exhibition and were upgraded to wall-mounted monitors.
Liquor Businesses
Jewish entrepreneurs dominated the wholesale liquor market and owned saloons and entertainment facilities, appealing to a market of thirsty miners. In addition, these businesses sold various tobacco products. Businesses such as Schloss Brothers, Schayer Mercantile Company, Baer Brothers Mercantile Company, S. F. Ballin and Company, and Goulder Janowitz and Sons enjoyed a thriving trade in Leadville's boom economy.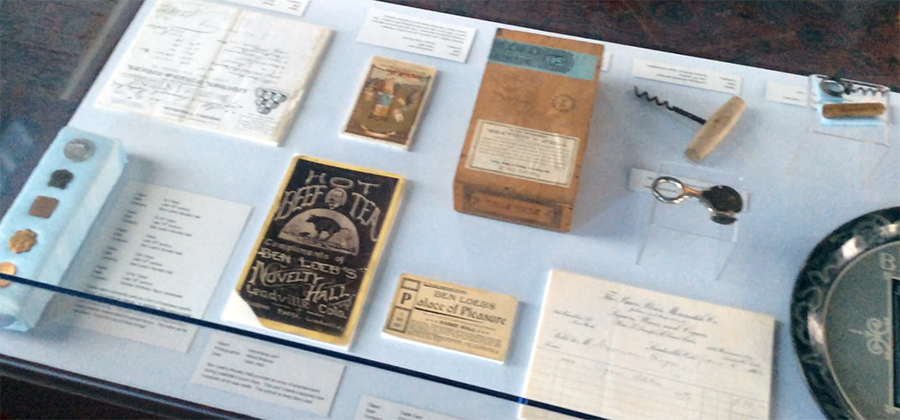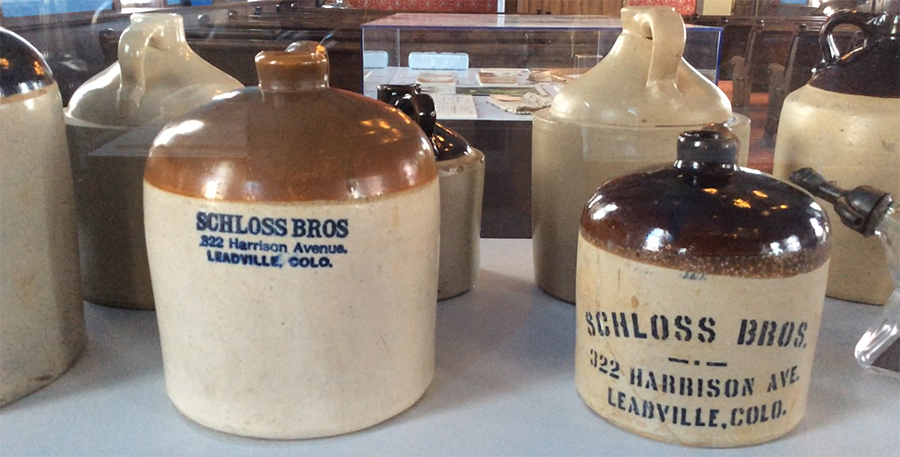 Jewish Merchants
The Jews who ventured to Leadville were primarily engaged as downtown merchants, integrating well into Leadville's commercial fabric. Interspersed along central Harrison Avenue and some of the side streets, their enterprises contributed to a healthy local economy. Monheimer Brothers, May & Shoenberg, and the Golden Eagle (Guldman) were amongst the important participant in the dry goods business. Jews also worked in significant numbers as grocers, tailors, saloonkeepers, tobacconists, jewelers & pawnbrokers, and as clerks.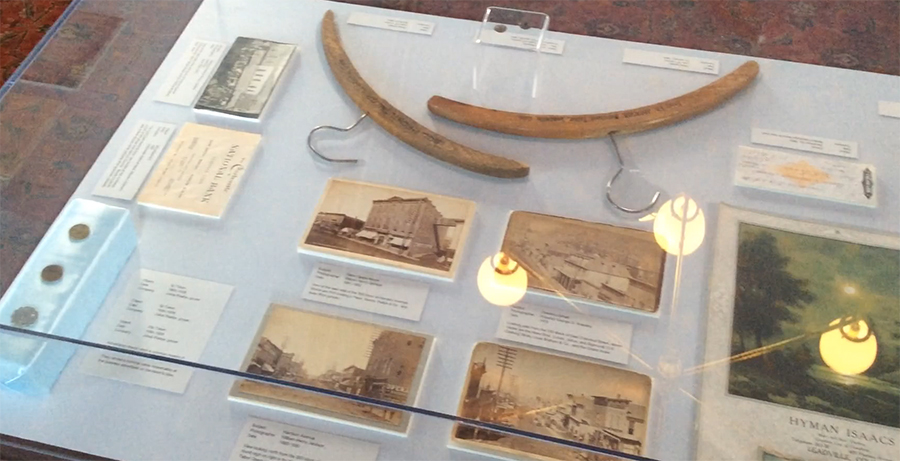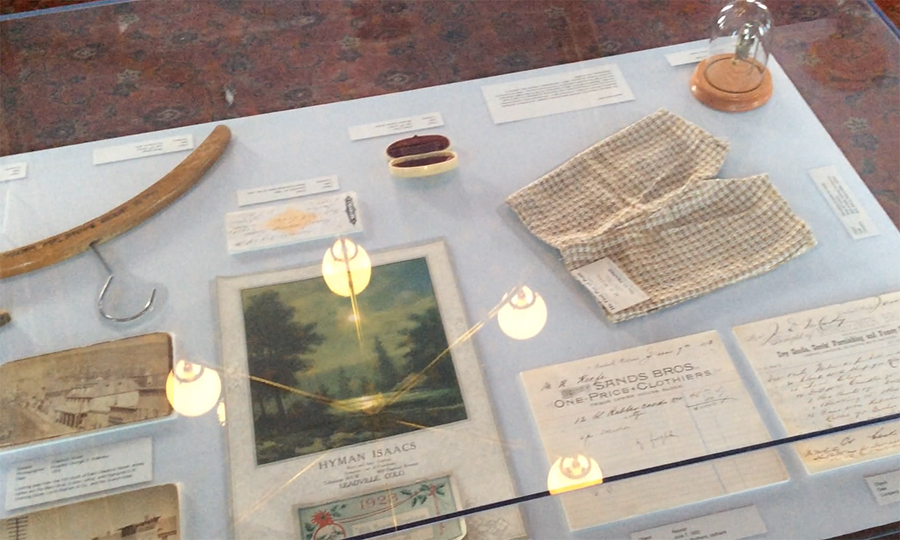 Mining
Although gold originally attracted people to Leadville in 1860, it was the discovery of silver in the mid-1870s that caused the city to mushroom. By 1877, a massive influx of people sought to get rich quick through mining or mining-related enterprises. Similar to the 1850s California Gold Rush, most Leadville Jews ended up providing goods and services to miners, but many did have varying levels of involvement in mining and with mining claims.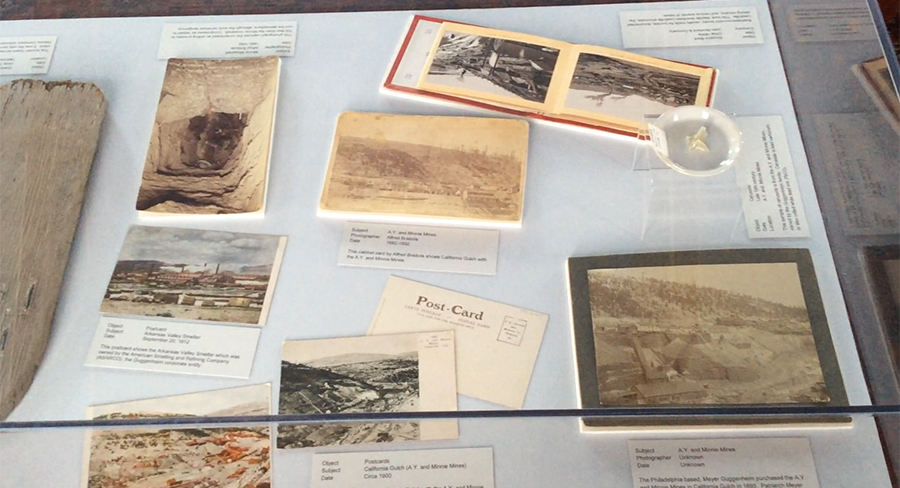 Jewish Family Life
The objects and photographs in this case reflect family life and home based religious rituals. The candelabrum and wine decanter are items for home Shabbat rituals, while the photographs show Jews in Leadville.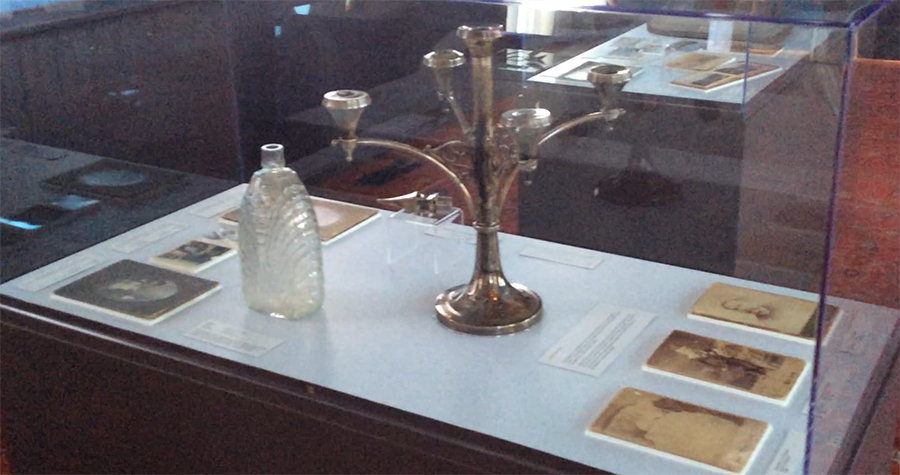 Judaism in a Frontier Mining Town
The basic evidence of Jews in Leadville is with the synagogue building itself and the presence of a Jewish section of the broader Evergreen Cemetery.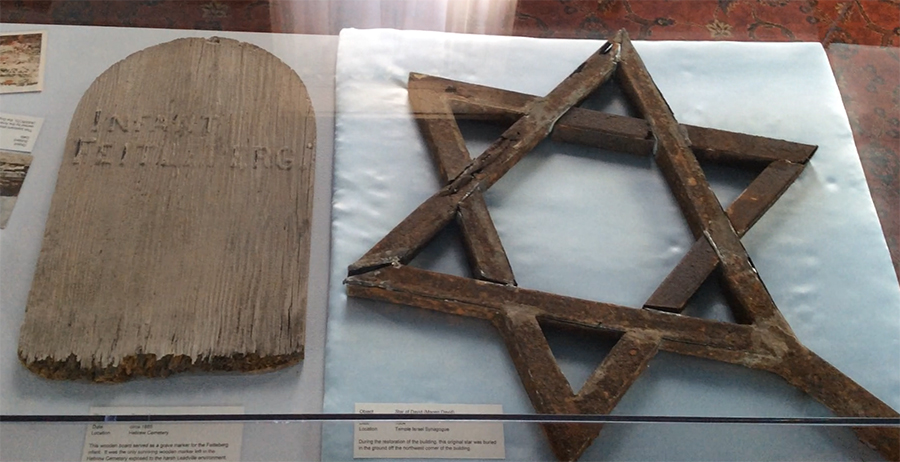 Grave Marker, Tombstone
Original grave marker for Feitleberg infant.
Star of David
This original star was buried in the ground during the restoration of the building.
Souvenir China
The word souvenir is French meaning "memory", or specifically "to come to mind", which can include any range of items that serves as a reminder of a person, place, or event. Souvenir china, spoons, and other decorative items were quite popular in the 1890s to WWI, creating a souvenir china industry that thrived. Jennie (J.S.) Sandusky decided to add souvenir china in 1897 to her store of furniture and second hand goods. She obtained customized plates, dishes, cups, creamers, and the like from the American company Wheelock China, which had the china manufactured in Germany or Austria. Wheelock was a large importer that solicited customized china products for merchants across the United States. Most of the china included in this case illustrates images depicting Leadville landmarks, many of which still stand.