The Hebrew Benevolent Association purchased and established the Hebrew Cemetery in the southwest corner of Leadville's Evergreen Cemetery in January 1880.

The Temple Israel Foundation acquired the title to the Hebrew Cemetery in 1993, ending a long period of institutional neglect. Since 1996, the Denver chapter of B'nai B'rith has led volunteer efforts each June to restore the site, maintain the grounds, and replace markers. The cemetery has been reconsecrated. Modern burials resumed in the newly platted Block E in 2001.
Hebrew Cemetery Hours
The Hebrew Cemetery is always open to the public and the road to the entrance is generally plowed during the winter.

The Hebrew Cemetery is located at the southwest corner of the larger Evergreen Cemetery. After going through the main entrance of the Evergreen Cemetery at the north end of James Street, make an immediate left turn and follow the dirt road along the fence line on the left until you reach the Hebrew Cemetery's white fence and black arch (about .2 miles).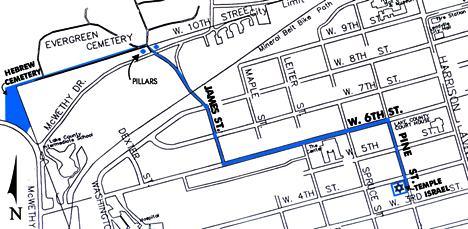 About the Hebrew Cemetery Site
The Temple Israel Foundation acquired ownership of the Hebrew Cemetery through a Quiet Title suit in June of 1993. The boundaries of the Cemetery exceed the outlined fenced area, which allows for future development, but are not quite as extensive as was purchased in 1880.
The original cemetery was arranged as rectangular Blocks A through D. The blocks were laid out in double rows and further subdivided into lots and graves. The 20'x20' lots contain eight graves, each five feet by 10 feet. In 2001, a new Block E was platted along the east fence for modern burials. The new block was fully excavated and refilled to assure that no unmarked graves were in the area. Refer to the
New Burials Page
for information about the availability of plots.