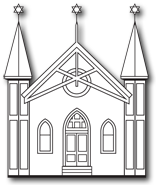 A question people frequently ask when they come to the Temple Israel Museum is: "Why did Jews come to Leadville?" Jews migrated to the West and to Leadville, Colorado for many of the same reasons other people did, no matter their cultures or economic statuses. They came to improve their social and economic status, to find adventure, even to reinvent themselves. Leadville's mining economy exploded in the late 1870s from the discovery of silver, resulting in an influx of migrants to this small mountain town. At its peak, the population of Leadville grew to approximately 30,000 residents, with about 300 of those (about 1%) being Jews.
As Europe industrialized in the 19th century and as some of the countries became increasingly repressive, many Jews emigrated for areas that were more hospitable. In Europe, Jews were commonly employed as seamstresses, tailors, and peddlers—work that was becoming obsolete in the new industrialized world. The United States, and particularly in the western United States, proved to be ideal for engaging in traditional Jewish occupations. In the U.S., one could rise from itinerant peddler to merchant in a single generation. While the image of the Jewish merchant has become stereotypical, many Jews found that the role of merchant in the American West provided families with economic stability and opportunities for civic leadership.
(Griswold, p.391, The Chronicle, November 5, 1879)
The Jewish people in Leadville had two religious groups, the orthodox and the reformed, with the former meeting in private homes and the latter using the Union Society Temple above Kamak's clothing store on East Chestnut. For charitable purposes the two groups worked together smoothly, this article appearing in the November 5 Chronicle:
A Hebrew Ladies' Benevolent Society has been organized in this city. The first meeting was held at the residence of Mrs. Jacob Schloss. The objects of the organization were discussed at length, and a permanent society was formed by the election of Mrs. Schloss, president, Mrs. S. Kahn, Vice-president; Mrs. Mandy Samuels, Treasurer; and Miss Rosa Schloss, Secretary.
The charter of the Rocky Mountain Lodge No. 373, I.O.B.B. [B'nai B'rith] was recorded [in the county clerk and recorder's office] yesterday by Isaac H. Kamak, and the installation will take place next Sunday morning at nine o'clock in their new lodge room on upper Chestnut street. The banquet will be given at the Hotel Windsor, at nine o'clock on the same evening.
Temple Israel Foundation
208 West 8th Street
Leadville, Colorado 80461
303.709.7050
Temple Israel Museum
201 West 4th Street
Leadville, Colorado 80461
Hebrew Cemetery
Within Evergreen Cemetery
North end of James Street, Leadville