This is a small exhibit in a long display case that was in the Leadville Room of the Lake County Public Library. It was installed in September of 2017 and was returned a few years later and is now back in storage. More artifacts like these are in another display case at the Temple Israel Museum.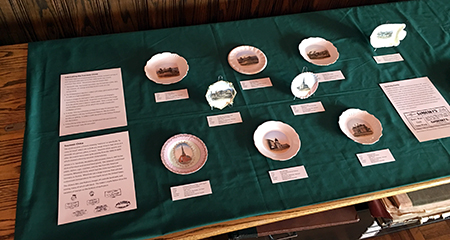 View of the display case with the exhibit.
Photo by RG de Stolfe, 2017
View of the display case with the exhibit.
Photo by RG de Stolfe, 2017
Souvenir China
The word souvenir is French meaning "memory", or specifically "to come to mind", which can include any range of items that serves as a reminder of a person, place, or event. Souvenir china, spoons, and other decorative items were quite popular from the 1890s to WWI, which created a thriving souvenir china industry.
Jennie (J. S.) Sandusky decided to add souvenir china in 1897 to her store of furniture and second hand goods. She obtained customized plates, dishes, cups, creamers, and the like from the American company, Wheelock China, which had the china manufactured in Germany or Austria. Wheelock was a large importer that solicited customized china products for merchants across the United States.
The china in this case features images of Leadville landmarks and mining, many of which still stand. The maker's marks below show the variation of stamps on the bottom of each piece.
Fabricating the Souvenir China
The broad region encompassing Germany, Austria, and parts of Poland and Czechoslovakia were rich in fine, white kaolin clay used to construct "thin china". This process required several steps.
Step 1: This kaolin clay, "hard paste" porcelain, was formed into a plate, dish, cup, creamer, etc and air dried then fired in a kiln at a low temperature.
Step 2: The bisqued piece was then coated with a base glaze and fired again in a kiln at a high temperature.
Step 3: Custom images for each piece were copied from photographs provided by the shop owner. Engravers would engrave the image from the photo onto a steel or copper plate. Then, a worker would ink the plate and print a decal, which was usually a multicolor, multiplate process.
Step 4: A worker then burnished the printed decal onto the porcelain item and finished it with any hand painted features, like decorative borders or gilding. A maker's mark stamped on the bottom finished the decoration.
Step 5: A third firing of the item in a low temperature kiln permanently sealed the image onto the porcelain.

This shows a sampling of the variation of maker's marks on the souvenir china.
Sandusky Family
Abraham I. Sandusky immigrated to America from Germany in 1881. Jennie S. Sandusky was born in 1865 in California to German immigrants. Abraham and Jennie married in 1886. City directories show both in Leadville by 1890. Jennie (known as J.S. Sandusky) set up a furniture shop at 115 Harrison Avenue in 1892 and remained there until 1897. That same year, she expanded their operations to include a separate store at 517 Harrison of second hand goods in addition to the furniture store which was then at 113 Harrison Avenue. Jennie also expanded her selections to include ceramics, tin, and porcelain collectibles featuring Leadville landmarks and mining. Jennie ran both businesses from the same address until about 1910 and employed nearly her entire family as managers, clerks, and jewelers.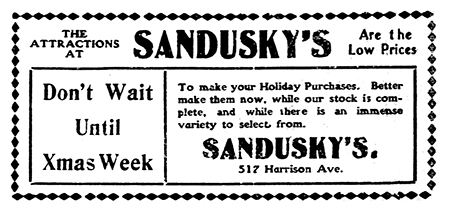 Advertisement for the Sandusky store.
From The Herald Democrat, December 3, 1904.
Ben Cohn
Ben Cohn was one of several children of Nathan and Jessie Cohn. He was born in 1875 in Texas after the family relocated from Kansas. The family moved again to Leadville in 1879 where they set up a pawn shop. Ben ventured into his own business in 1898 by opening a jewelry shop at 412 Harrison Avenue. Ben operated his business until he left Leadville in 1909 for Seattle, Washington.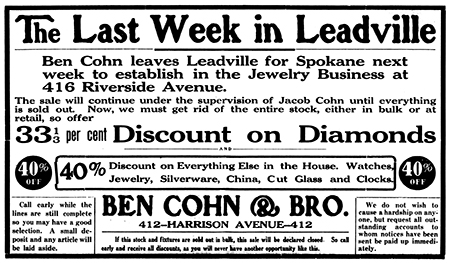 Advertisement for the Ben Cohn store going out of business.
From The Herald Democrat, September 1, 1909.