Carpenter Gothic is an architectural style that was popular in North America. It was a Folk/Stick Style offshoot of the Gothic Revival movement specific to smaller, more rural wood framed structures instead of the larger brick or stone cousins. While the American Gothic Revival movement ranged from the 1840s through the 1860s, the Carpenter Gothic style extended later into the 1890s, particularly in the western United States.
Carpenter Gothic architecture features some combination of pointed arch windows, circle windows, tall square towers (usually with narrow pointed spires), minor buttresses, vertical board and batten walls or horizontal clapboarded walls, vergeboards, bargeboards, and steep pitched roofs (often with cross gables), among other details. Carpenter Gothic structures were simply adorned as compared to the Medieval Gothic style. However, some structures did include more extensive decoration and trim.
Most Carpenter Gothic structures are houses or buildings of worship, particularly Episcopal churches. Similar wood structures in the Carpenter Gothic style also were built in Canada, England, Australia, and New Zealand.
For more general information about the Carpenter Gothic style, go to: Wikipedia.
In Leadville, several worship structures existed:
First Presbyterian Church, 119 & 121 W 5th Street, 1879?
St. George Episcopal Church, 200 W 4th Street, 1880
Temple Israel, 201 W 4th Street, 1884
First Evangelical Lutheran Church, 301 E 8th Street, 1888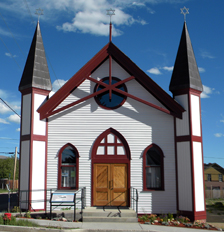 Temple Israel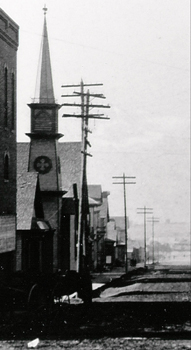 This Presbyterian Church became the Orthodox synagogue in 1893 after some other uses of the building. The building was demolished in 1937.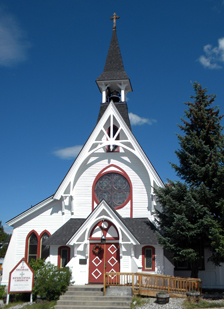 St. George Episcopal Church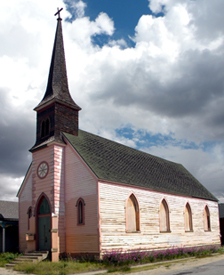 First Evangelical Lutheran Church, The "Swedish Lutheran Church"
Other examples of Carpenter Gothic in the United States
These photos show some other examples of Carpenter Gothic structures from around the United States.
The most iconic Carpenter Gothic structure is featured in the painting American Gothic (1930) by Grant Wood. The house is in Eldon, Iowa.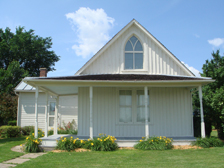 House in Eldon, Iowa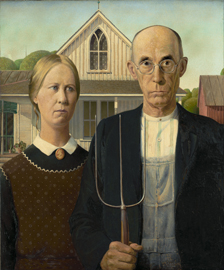 American Gothic (1930)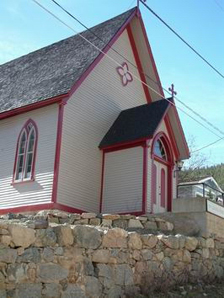 Grace Episcopal Church
Georgetown, Colorado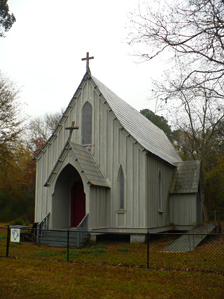 St. John's-In-The-Prairie
Episcopal Church
Forkland, Alabama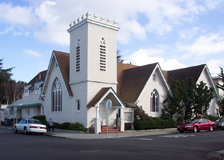 Unitarian Universalists
of San Mateo, California
(originally a Methodist church)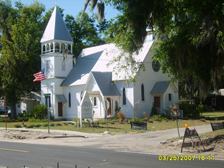 Christ Church
Fort Meade, Florida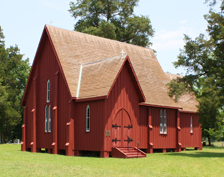 St. Andrew's Episcopal Church
Prairieville, Alabama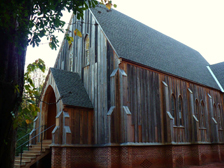 St. Luke's Episcopal Church
Cahaba, Alabama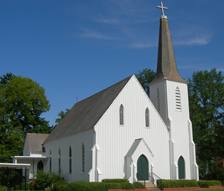 St. Paul's Episcopal Church
Lowndesboro, Alabama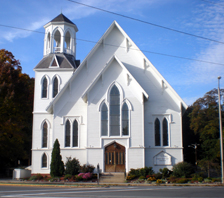 First Baptist Church
Methuen, Massachusetts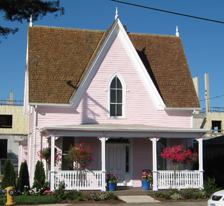 Cooper House
Independence, Oregon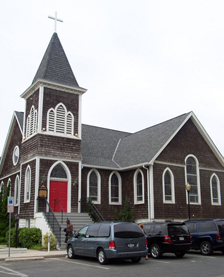 St. Paul's by-the-sea
Protestant Episcopal Church
Ocean City, Maryland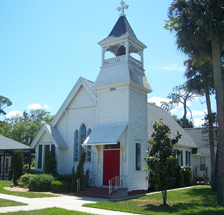 Grace Episcopal Church
and Guild Hall
Port Orange, Florida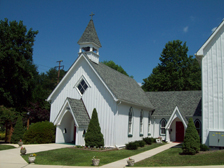 St. Paul's Chapel
Crownsville, Maryland

To cite any of the information in this writing, please use the following reference.

AUTHOR: Robert-George de Stolfe
EDITOR: William Korn
SOURCE: Building History/Carpenter Gothic
PUBLISHED BY: Temple Israel Foundation. Leadville, Colorado; USA. 2019
STABLE URL: http://www.jewishledville.org/carpentergothic.html