These links are a broad survery of sites arranged by topic. If you have any suggestions of relevant sites we should add, please refer to our Contact Us page to submit a suggestion.
General Leadville Information
Leadville Museums and Historical Buildings Sites
Facts of 21st Century Leadville
Here are some basic facts about Leadville in the 21st Century.
Named as "Leadville" in 1877
Incorporated on February 18, 1878
Leadville is in Lake County and is the main city in the county
Official elevation of 10,152
Known as the Two Mile High City, Cloud City, Pb, and xxxxxx
Area of town: 1.1 sq mi (2.86 km²)
Population: 2,602 (2010 census)
Is in the Mountain Time Zone
Is just east of the Continental Divide
Is just east of the Arkansas River
In the 1800s, Leadville was the second most populous town in Colorado. Denver was the most populous.
Leadville was once in the running to be the state capitol of Colorado
Coordinates: 39°15'00"N 106°17'30"W
Area code: 719
Zipcode: 80461
Summer temperatures will rarely be above 80°F, and is usually in the 70s or 60s.
Average annual snowfall is over 200".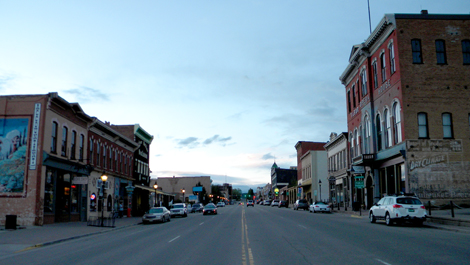 View looking North from the South end of Harrison Avenue
(at 3rd Street) in Leadville, 2014.
Photograph by RG de Stolfe.